All our Yoga instructors are volunteers. They are from different parts of the world and teach Multi-Style Yoga in their Yoga class. Although they don't receive money, they are happy to receive the positive energy and your blessings. With their and your help, more and more proceeds (Erlöse) can be donated to the charitable causes.
Instructors with weekly classes
---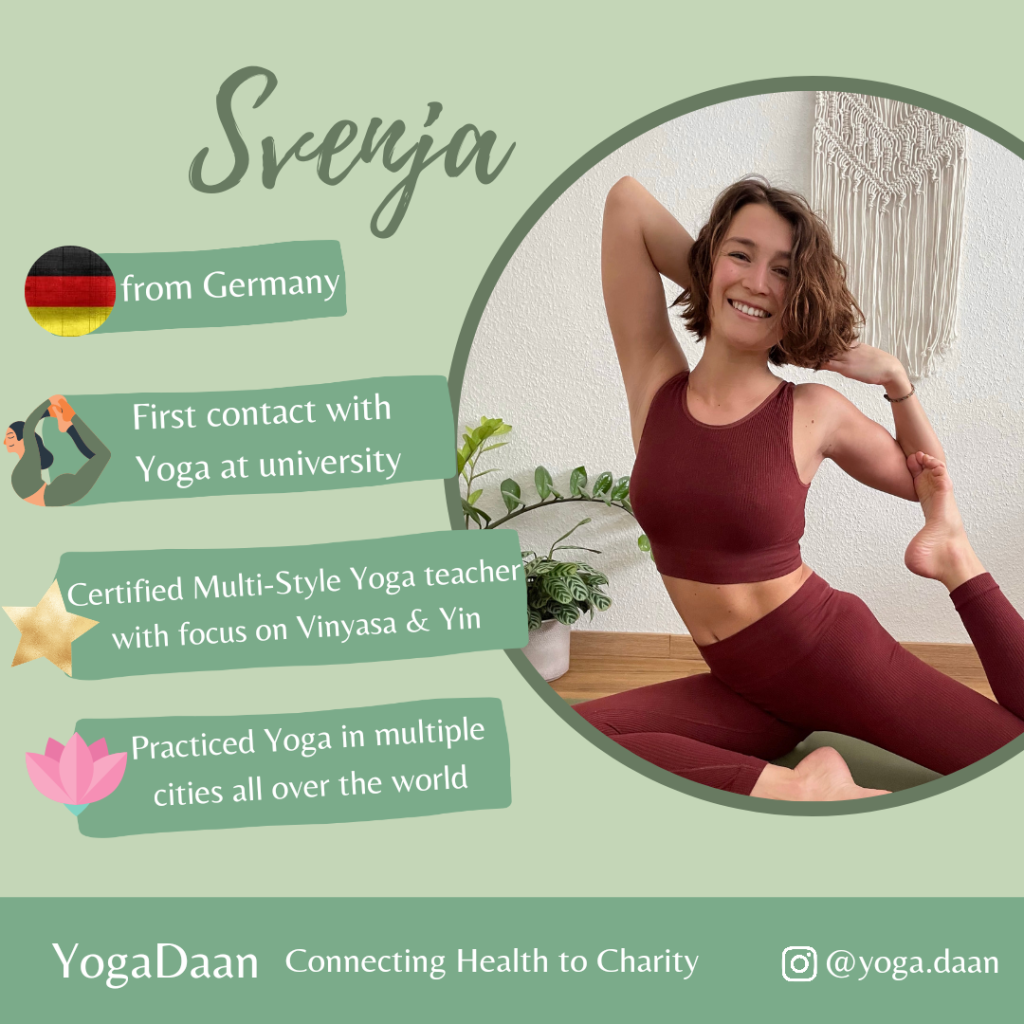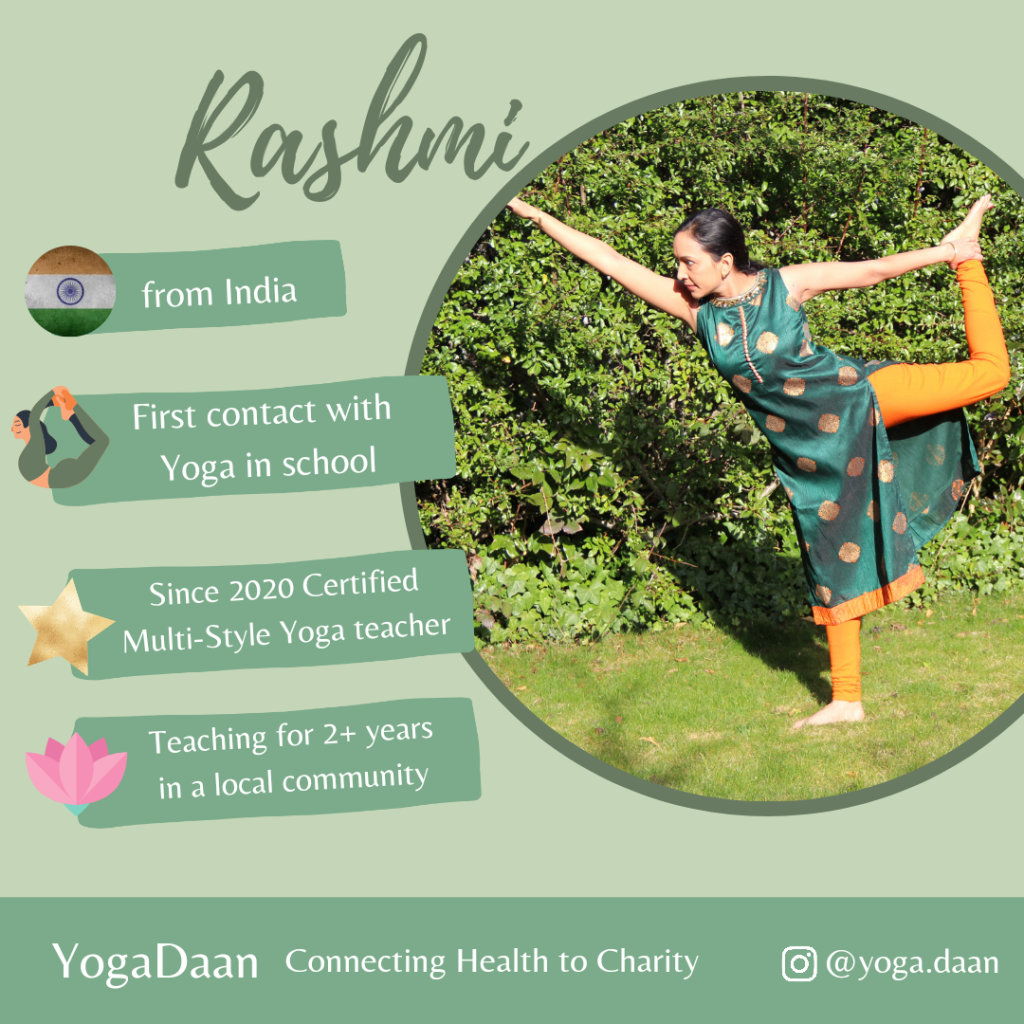 Instructors supporting our specials
---
---
Svenja
Namaste, my name is Svenja.
My first encounter with Yoga was 10 years ago, when I joined a Yoga class at university. 
Ever since, Yoga has accompanied me during my whole life – living in different cities, from Cologne to Sao Paulo.
Yoga has always been a constant in my life. 
And while during the first years, I especially saw it as a physical challenge and a way to improve my physical health, after some time I also noticed the mental benefits of it.
After having tried out different styles and experiencing different teachers over the years, I decided to deepen my knowledge regarding the Yoga philosophy. Therefore, I started the 200h Yoga Teacher Training in 2020 and became a multi-style certified Yoga teacher with a focus on Vinyasa and Yin.
In my class I focus on Vinyasa Yoga. It is designed for Yogis with intermediate and advanced experience. Join my class here!
---
Rashmi
Namaste, my name is Rashmi.
With my Indian origin, I was introduced to Yoga at school for an event. After the school event, my mom convinced me to continue on the Yoga learning journey. Honestly speaking at that time, soon entering into my teens – it was not the coolest thing to pursue and I was a bit irritated.
However I continued on the learning path.
Over 30+ years, I had many yoga teachers with different styles and I learned very different aspects of yoga from each one of them. Yoga became an integral part of my life.
For 2 years+ I have been teaching in a local community. The teaching experience was so captivating that it motivated me towards the yoga teacher training. In 2020, I became a Certified Multi-Style Yoga teacher.
In my class I focus on Hatha Yoga & Hatha flows. It is designed for Yoga beginners and intermediates. Join my class here!
---
SUMA (GUEST INSTRUCTOR)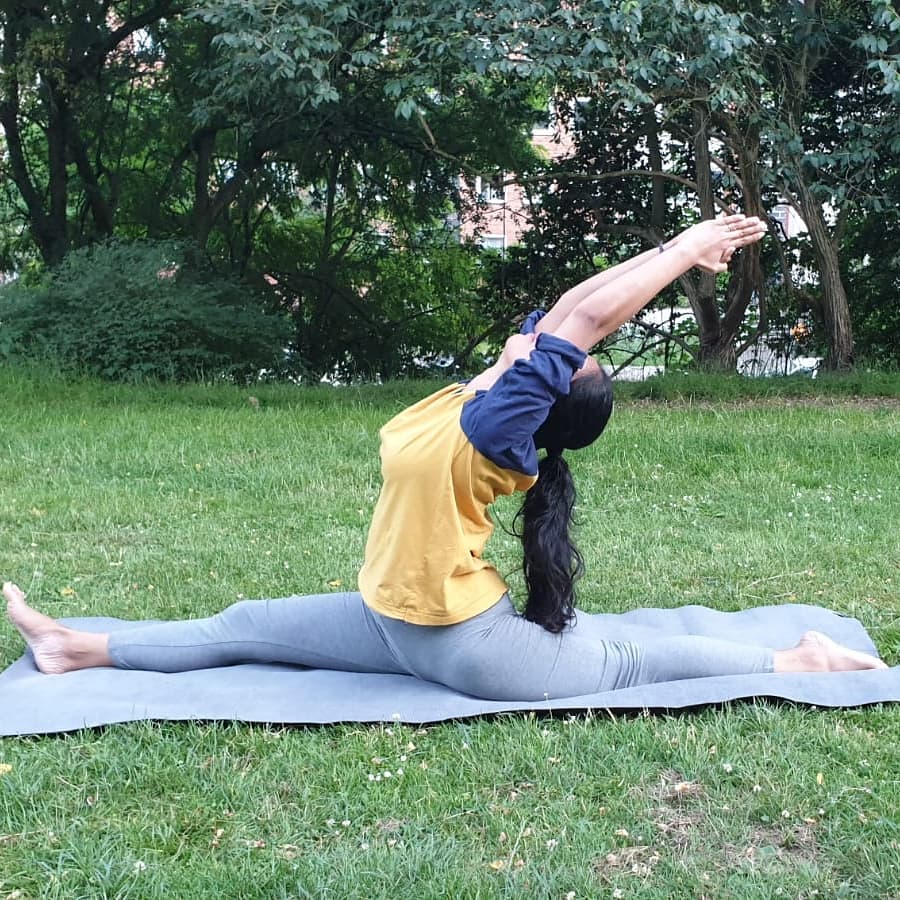 Namaste, my name is Suma.
Originally I am from India.
I started my Yoga journey 9 yrs. ago with the aim to improve my physical health but was overwhelmingly impressed to discover Yoga beyond mere physical practice and started exploring different dimension of it.
I am a certified Yoga teacher with 4+ yrs. of experience in teaching. I am currently pursuing my Masters in Yoga Philosophy and Science. I had taken internships for the participants under the guidance of doctor of practice Yoga in parallel with their medication. I predominantly work on Yoga therapies for different psychosomatic ailments and meditation practices.
In my class I focus on Ashtanga Yoga. It is designed for beginners and intermediates. Join my class here!
---
Aditya (GUEST Instructor)
Namaste, my name ist Aditya.
4 years ago, when I was introduced to Yoga, my life took a turn. I decided to quit my corporate job to delve deep into the profound practice of Yoga.
"Health is wealth, peace of mind is happiness, yoga shows the way" inspires me deeply. I believe that how you live and move creates a significant difference between biological age and chronological age.
I am a 600 hour certified Yoga teacher. For me Yoga is one, therefore I do not believe in Yoga styles and focus more on a true holistic approach to our whole system of body, mind and soul.
---
Elif (GUEST Instructor)
Namaste, my name is Elif.
I am from Iszmir, Turkey.
My first contact with Yoga was 8 years ago in a Yoga studio.
Yoga gave me the resilience to live through undesirable circumstances and the courage to walk out of them. It's been a practice that started on my mat and spread into all areas of my life; because I believe it's a tool to face one's self.
I am a certified vor Hatha and Vinyasa yoga and I have completed further trainings for accessible Yoga and Yoga therapy. In total I have 550 certification hours.
---
Dipti (GUEST Instructor)
Namaste, my name is Dipti.
Originally I am from India.
Before starting my Yoga journey, I worked in the IT world.
My love for yoga has grown and is still growing an my practice has helped me grow stronger, more flexible and fearless, both on and off the mat. Yoga inspires me to live each moment more mindfully.
I am a 300 hour certified Yoga teacher and have experience in teaching with cancer patients. Through the practice I have helped them to heal and deal with the side effects of Chemo as and when needed.
During my classes, I love to combine creative sequencing, a spirit of playfulness and a dose of inspiration to help deepen the practice.