Cat, cow and dog are animals to you? Check out our 6 easy Yoga positions for beginners to see what they have to do with Yoga. They make it easy for you to start your Yoga practice and we highlight to which movements you have to pay attention to.
What is Yoga?
The origins of Yoga probably lie in the ancient India. In Sanskrit it means योग and is translated as "union".
Yoga combines movement, meditation and breathing. By practicing Yoga regularly you can improve your well-being significantly.
building muscle strength
enhancing flexibility
promoting better breathing
supporting heart health
Find an overview of the 6 easy yoga positions for beginners:
Try one of our live online Yoga classes to practice these easy Yoga positions.
1 Child's Pose – Balasana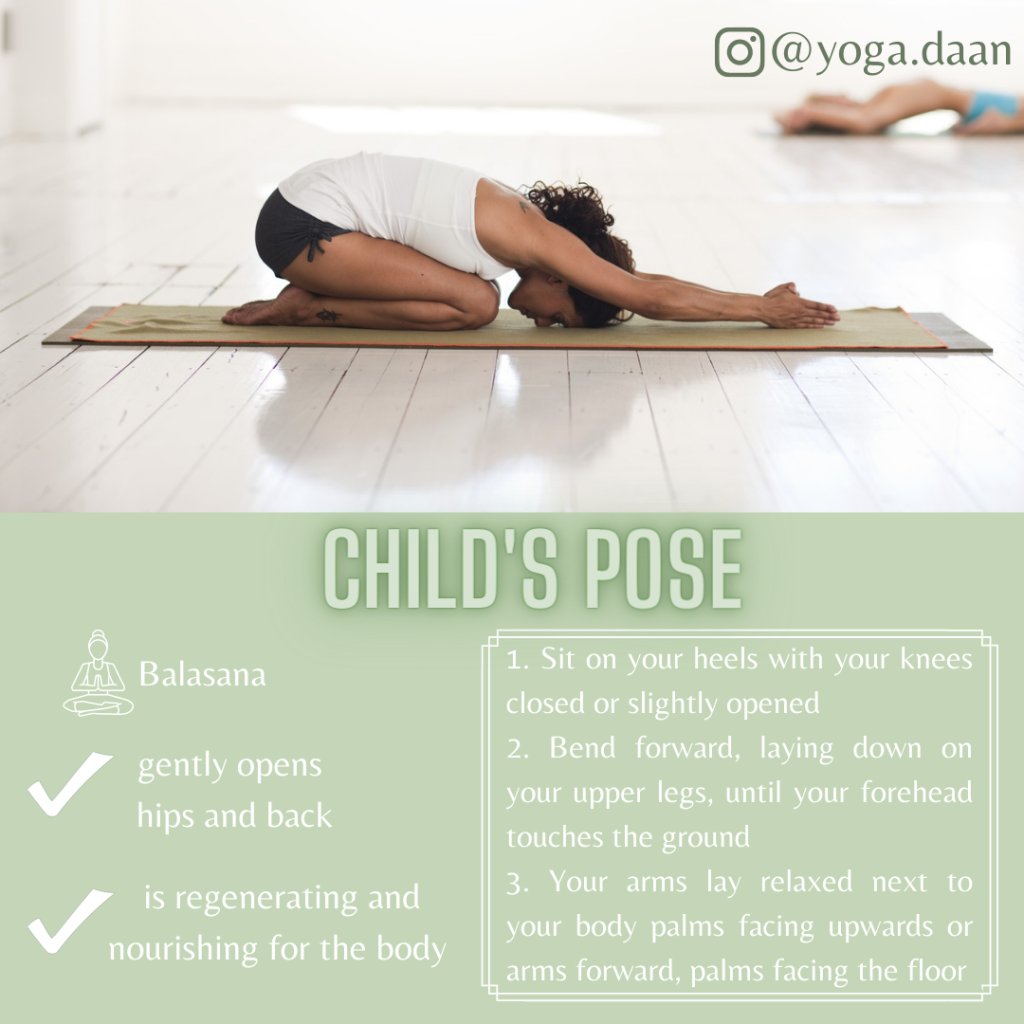 The child pose gently opens hips and back. Additionally, it is regenerating and nourishing for the body.
Sit on your heels with your knees closed or slightly opened.

Bend forward, laying down on your upper legs, until your forehead touches the ground.

Your arms lay relaxed next to your body palms facing upwards or arms forward, palms facing the floor.
2 Mountain Pose – Tadasana
The mountain pose builds the foundation for a lot of other Yoga poses. It might look very simple, nevertheless it activates a lot of different muscles areas.
Come into a standing position, your arms should be at your side.
Ground your feet while at the same time you straighten your legs.
As you inhale, extend your arms.
While exhaling, release your shoulder blades away from your head.
3 Forward Fold – Uttanasana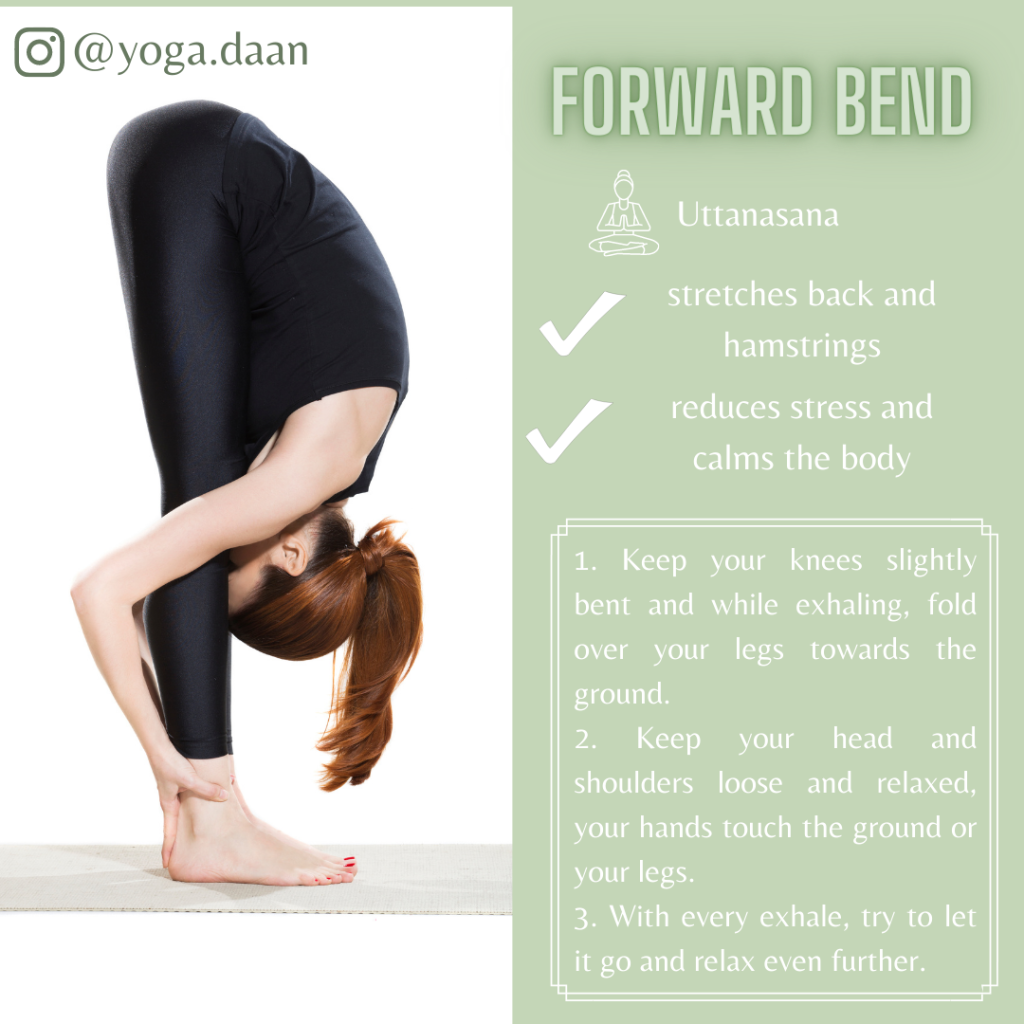 With the forward fold you stretch your back and hamstrings. It reduces stress and calms the body .
Keep your knees slightly bent and while exhaling, fold over your legs towards the ground.

Keep your head and shoulders loose and relaxed, your hands touch the ground or your legs.

With every exhale, try to let it go and relax even further.
Try one of our live online Yoga classes to practice these easy Yoga positions.
4 Downward-Facing Dog – Adho Mukha Shvanasana
The downward-facing dogis a great way to stretch your back, shoulders and hamstrings. By practicing it you can get relaxed, calm down and center yourself.
Come onto your hands and knees.
Your fingers should point forwards while your knees are positioned under your hips.
Lift your hips and press back. You should be in a V-shaped position now.
5 Cat Pose – Marjaryasana
If you want to stretch your back and neck the cat pose is the right exercise for you. It relaxes the spine.
Follow the cow position by a countermovement: As you exhale, drop your chin to your chest and arch your back up as much as you can.

Hold this pose for a few seconds before you return to the initial table position.

Continue five or six rounds.

Tip: do the movement slowly and gracefully, to get a meditative effect.
6 Cow Pose – Bitilasana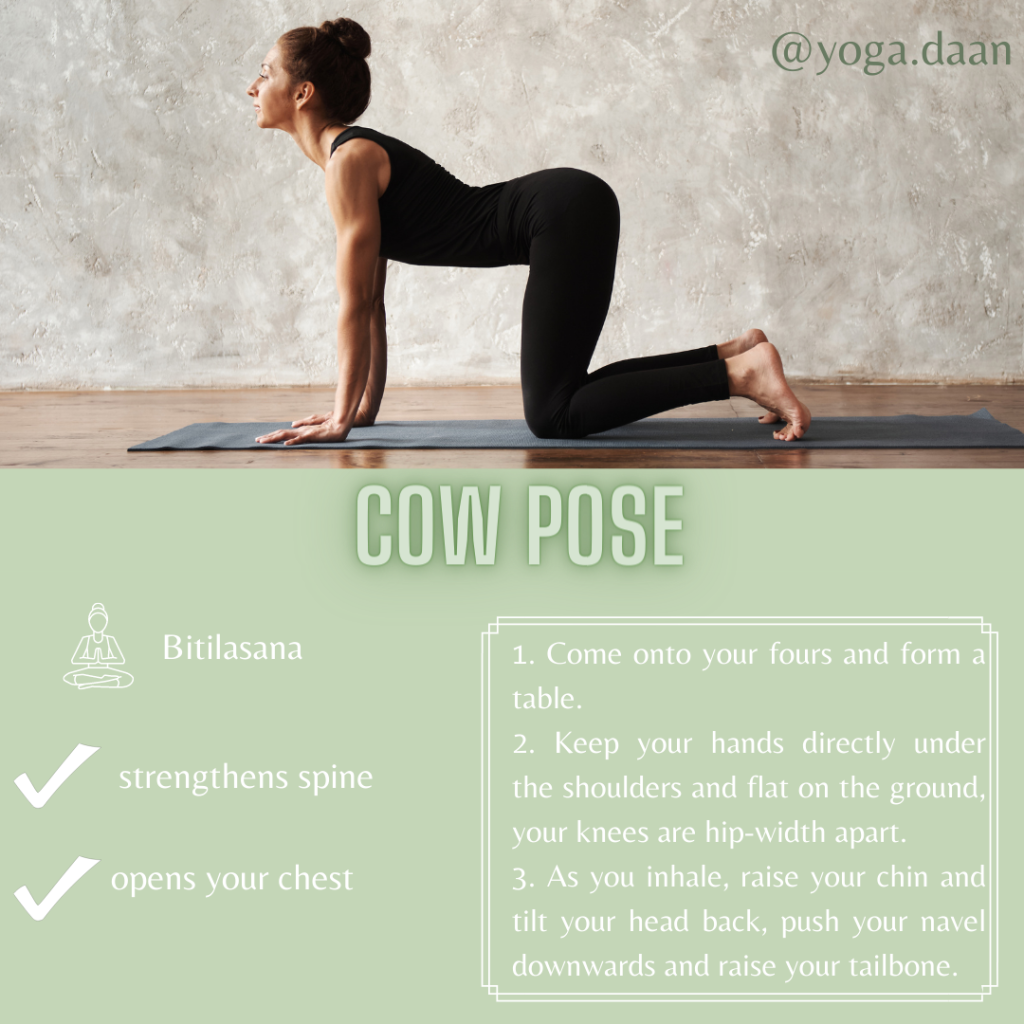 With the cow pose you strengthen your spine and open your chest.
Come onto your fours and form a table.

Keep your hands directly under the shoulders and flat on the ground, your knees are hip-width apart.

As you inhale, raise your chin and tilt your head back, push your navel downwards and raise your tailbone.
Try one of our live online Yoga classes to practice these easy Yoga positions.